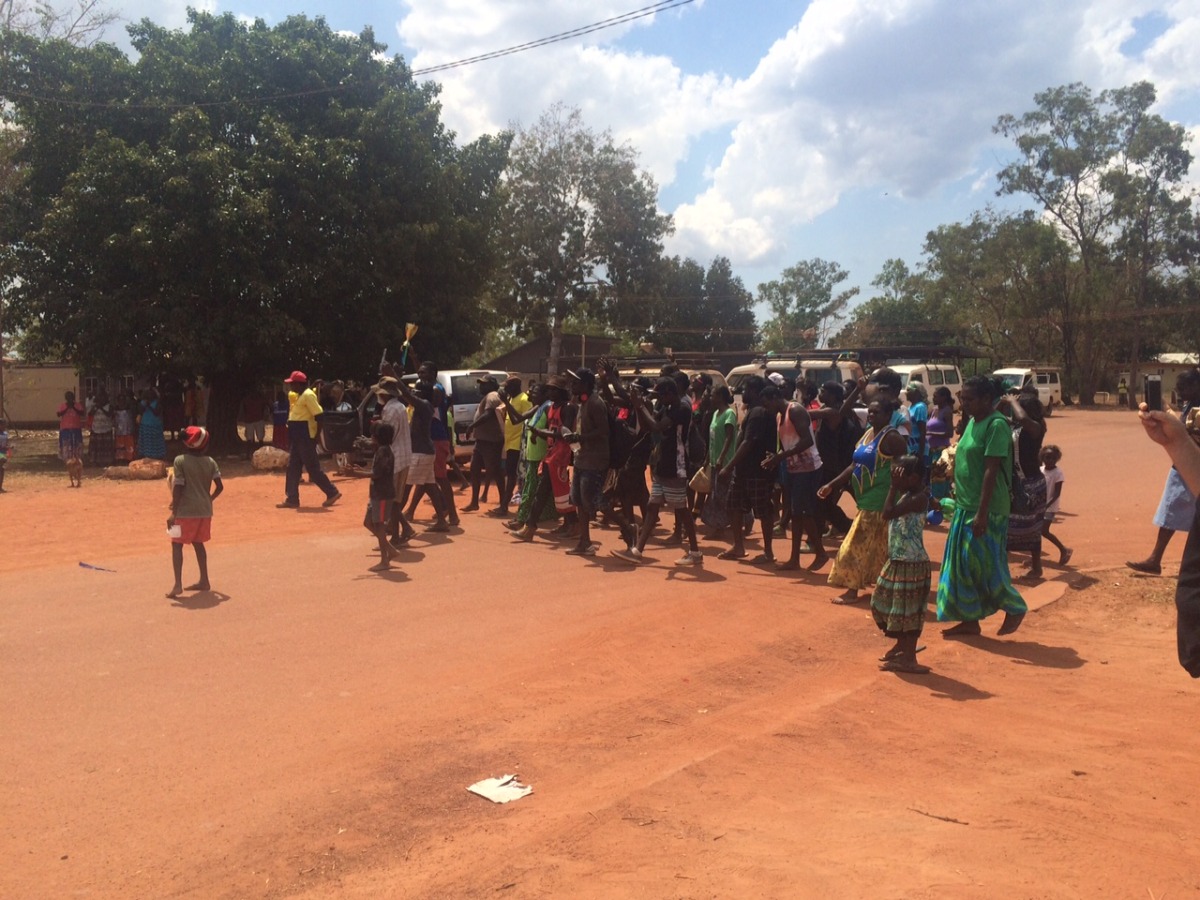 The Gapuwiyak Lakers were crowned champions of the AFL Cyclone Recovery Football Carnival recently held in Gove, with a convincing four goal win over Gove #2 side Port Power and followed by a heartwarming homecoming celebration.
With generous funding support by the Northern Territory Government, in conjunction with ALPA, Rio Tinto and TIO, East Arnhem Regional Council's Youth Sport and Recreation team worked tirelessly in coordinating the event alongside AFL Northern Territory. With two exciting days of footy and live entertainment, around 170 young men from East Arnhem communities affected earlier this year by Cyclone Nathan and Lam made the trip into Nhulunbuy for a huge weekend of action!
Teams travelled by charter flights and troopies from Milingimbi, Ramingining, Gapuwiyak, Galiwin'ku (two teams), Groote Eylandt and two combined sides from the Gove Peninsula (including Yirrkala & Gunyangara) to compete. In an exciting Grand Final match that had the crowd on their feet, the Gapuwiyak Lakers were a class above, eventual four goal winners over the Gove #2 combined side.
Lakers young gun Rowan Gaykamangu was named Best on Ground, and Ramingining recognised with a special award given to a team that encompassed the spirit of the game, showed superior sportsmanship, respect for others and overall exceptional conduct on and off the field. Council congratulates Rowan on his performance, and the boys from Ramo for their ouststanding efforts during the weekend.
The homecoming for the Lakers was nothing short of amazing! In what seemed to be every member of the community in attendance to celebrate their arrival home, the community pride was at an all time high.
With fantastic support from ALPA and Miwatj Employment and Participation (MEP), a community BBQ was coordinated. ALPA provided streamers and ballons which were used to decorate community, cars, and street posts, and the hands of community members were also decorated. The Council's Municipal team along with the MEP buffalo boys took on the cooking duties for the BBQ and once the grill once fired up, there was no stopping it. The team were hard at work for two hours, many a chop, sausage and rissoles were handed out, along with many crates of poppers.
After a celebratory parade through community, the team and trophy flanked by community members, the guys presented the trophy to Gapuwiyak's traditional owners. The party continued and was certainly a memorable moment for this sports mad community.
The next morning really told the story of a celebration, and we thank the Municipal Crew for their hard work in finishing what they helped build, cleaning the grounds that had well and truly shown that celebration had been held and enjoyed!
This event meant so much to all the teams from East Arnhem that participated and their community. Council acknowledges the NT Government initiative and work AFL Northern Territory and other stakeholders put in conducting it, and congratulates all of our players and officials on their efforts. A special big thank you must go to our Youth Sport and Recreation team and Yirrkala Council staff for all their efforts in ensuring this weekend was a success. For Gapuwiyak this was a victory not to be forgotten any time soon!